November 18th, 2009 by Mike Vasilinda
FSU Head Coach Bobby Bowden and Governor Charlie Crist today accepted a check from Wal-Mart for $186 thousand dollars.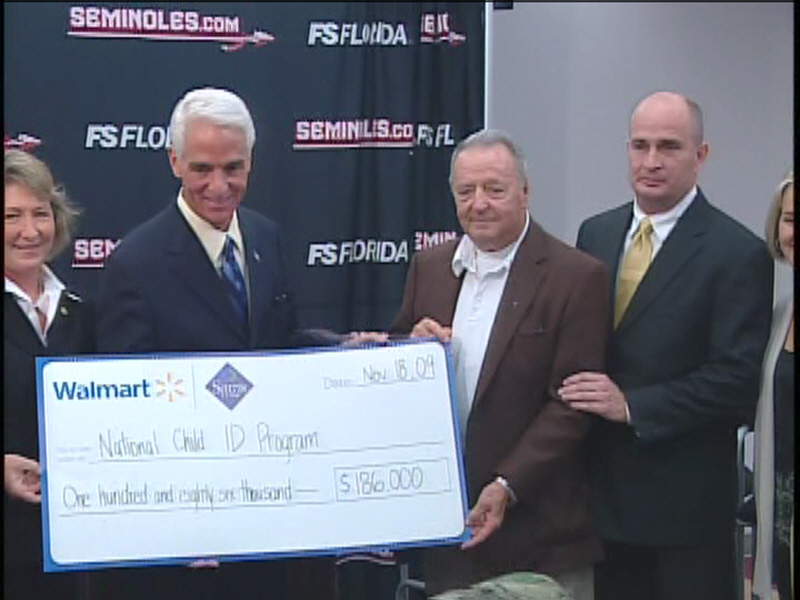 The money will pay for more than 2 hundred thousand ID kits though the National Child Identification Program. The kits will be given free of charge to all Florida kindergarten and first grade students next school year.  Director Kenny Hansmire and Bobby Bowden say the need is great.
"We found out that there's over 800,000 children reported missing every year," Hashmire said. "That's one every 40 seconds. 350,000 are parent abductions, 56,000 are stranger abductions, and we have over 450, 000 runaways across America."
"They are in the biggest danger," Bowden said. "Anybody that reads the paper or watches television, have you ever seen there been more of a need for this, than right now? I mean, the timing is perfect, and I hope our whole nation gets behind it. I've got 21 grandchildren. My other ones are all old and gone, but I want to be sure that they participate in this."
The kits contain an inkless fingerprint card and a swab for parents to take a DNA sample.
Posted in Children, State News |

2 Comments »