December 2nd, 2009 by flanews
The Florida Delegation on Climate Change is traveling to Copenhagen, Denmark next week to find ways to create jobs in the state.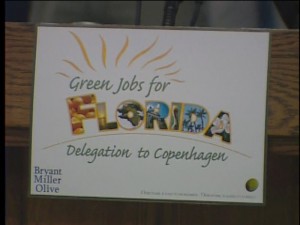 This morning delegates unveiled their plans at Danfoss Turbocor, a Tallahassee business that builds energy efficient air-condition parts. Executives from other Florida based green companies were also on hand. Rob Szumowski, The VP of a company helping businesses cut energy costs, says attending the UN's Climate Change Conference in Copenhagen will help bring new ideas to Florida that will create jobs down the road.
"Smart grid, energy audits, carbon audits, strategic direction, or financing for local governments will be able to meet the challenges of an economy driven by a low carbon diet and help our clients plan manage and thrive, cause if we help clients thrive in Florida then that means they are going to high more Floridians," said Szumowski
Florida is one of several states sending a delegation to Copenhagen. The conference begins December 7th and lasts two weeks.
Posted in Economy, Environment, State News, Unemployment |

No Comments »