October 28th, 2016 by Mike Vasilinda
A weeklong extension of voters registrations because of Hurricane Matthew resulted in more than 100 thousand new applications. Of those new applicants, about 21 thousand voters applications are still unverified by the state. That resulted in a federal judge calling an emergency hearing.
At 9 AM Friday, the Division of Elections showed that more than 106 thousand voter applications had been submitted since Federal Judge Mark Walked extended the registration period by a week. The site also showed there are still more than 21,000 unverified applications, which is why Walker called an emergency hearing by phone.
"Still engaged in the same efforts, the same extra staff, the same extra resources and overtime?" asked Walker near the beginning of the hearing.
Elections bureau Chief Maria Matthews told the judge the state was still working seven days a week to verify the applications.
"That automated match process generates about an 85 percent automatic verification. that means 85 percent  of those records that are verifiable become, those individuals become registered voters" she added.
Of the 21,000 unverified applications, 15 thousand have been sent back to local supervisors. That's because they contained an error, and many may never be verified.
Ron Labasky is the lawyers for the state's Supervisor's of Elections.
"A supervisor will contact the individual whose application was deficient. Obtain the information possible, if the voter is cooperative. Sometimes the individuals just don't care to respond and those will just never get processed" says Labasky.
Judge Walker ended the hearing saying he believed was satisfied the state was doing everything it could to verify valid applications quickly.
The state and judge previously agreed to a deadline of Monday morning to verify all valid applications, That's when all of the counties in Florida must begin early voting.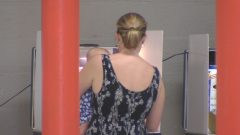 Posted in State News |

No Comments »