November 11th, 2016 by Mike Vasilinda
A new Speaker of the Florida House takes office a week from Tuesday, and he's proposing tough new rules for House members to live by.
Richard Corcoran is a no non-sense Pasco County Republican who takes over as Speaker of the Florida House on November 22. He's bringing a host of rules changes to the job.
"And when you have an open and transparent process, Mike, then you going to have the greatest output for the people of Florida. When it's closed doors or when its in secret, or when there's too much influence of the special interests, and lobbyists have too much control, everyone loses" says the incoming House Speaker.
This is what it can look on the Capitol's fourth floor when the legislature is in session. Lobbyists everywhere. Here you can see a lobbyist discussing a last minute amendment with a lawmaker. But Under the rules change, members will have at least a day to read how another wants to change their bill before a vote is taken.
"78 yeas"
"We're gonna add an additional day so we can scrutinize all these amendments, and people people can't wait until the last second to do what they can't do openly in the sunshine, that's why they have to do it at the last minute" says Corcoran.
There are also tough new ethical rules for House members.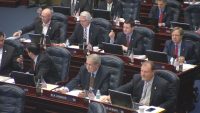 And a hip video produced by the House helps explain the changes."
"No more spending millions of dollars at the last minute" says the animated short.
No flights on private planes owned by lobbyists or the people who hire them.
Lawmakers must disclose new employment with a Government funded agency
And they can't do business with a registered lobbyist.
There is also a ban of texting between lobbyists to members who are in session or a committee meeting.
Right now, lawmakers have to wait two years before they can lobby. Corcoran wants to extend it to six.
"the revolving door is closed" concludes the video.
Former members who now lobby say extending the ban on lobbying by former members to six years will have little impact on the process. Also, many of the changes, especially when it comes to spending must also be agreed to by the Senate,   and it has yet to weigh in on the changes.
Posted in State News |

No Comments »