December 14th, 2016 by Mike Vasilinda
The head of the state corrections department today asked lawmakers for a ten percent raise for her officers. DOC has a ten percent vacancy rate and a turnover rate of just under 30 percent. Secretary Julie Jones says the current 29 thousand dollar starting salary isn't enough to attract people who want to stay with the department.
"By raising the base pay for officers, sergeants, lieutenants,a nd captain ten percent, give coms flexibility in there. I want the best and brightest to feel good about moving up and be compensated for it. So this plan really goes to the core of what I thing the issue is: retaining people who really do want to work for us" says Jones.
Because of the turnover, over half the officers and command staff in some prisons have less than two years experience on the job.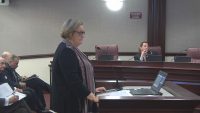 Posted in State News |

No Comments »