December 16th, 2016 by Mike Vasilinda
Florida Attorney Pam Bondi met with President Elect Trump in New Your on two weeks ago today. The meeting was that Trumps request. Bondi has yet to say if she has been offered a job, but a week ago, she left unanswered the question of whether she would finish her term. Today Governor Rick Scott was asked if her leaving would be good for Florida.
"First off, Pam Bondi is a friend, I hope she doesn't leave.  I think if she does, I know she'll work hard, and work hard to do a good job, but my goal is that she not leave" says Scott.
Under Florida law, the Governor would appoint Bondi's successor if she left. That appointee would have to stand for election in 2018.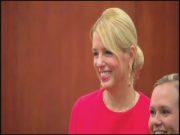 Posted in State News |

No Comments »