December 16th, 2016 by Mike Vasilinda
Governor Rick Scott sent a letter to the Board of Visit Florida, calling on the Board to institute new leadership. Within hours, the Chief Marketing Officer and the Chief Financial officer, both of whom were intimately involved in the Pit Bull contract that required confidentiality were fired by President and CEO Will Seccombe. Seccombe is also on the way out. We were told he is negotiating his exit with the Visit Florida Board. Spokesperson Kathy Torian says the agency remains proud of the work they have done.
"Two positions have been eliminated. That would be our CMO and CFO. We are also in receipt of a letter from the Governor's Office seeking a change in leadership. Will is pull together our staff this afternoon to let us know e is in agreement with that recommendation and that he will be working our board in the coming weeks to work through a plan of what that entails" says Torian.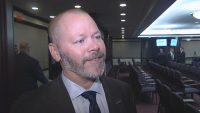 The Visit Florida board meets next on January 9th
Posted in State News |

No Comments »