January 9th, 2017 by Mike Vasilinda
Just over a dozen people marched to US Senator Marco Rubio's officer at lunch today to protest the President Elect's Cabinet picks. The group, led by Ph.D. student Lacey Love is concerned by eleven of the President elect's picks and want Rubio to make sure each gets a thorough hearing.
"We hope we accomplished, besides getting people together, is to send a message to Senator Rubio that his constituents, especially women in Florida, that gathered together today are organized and want him to take action to vet Trump's Cabinet properly and to let him know that we are here, and that we are watching his actions and that we support him making sure he follows an ethical choice in who he is letting in" says Love.
The protestors say more than 20 thousand women will march in Washington DC for the inauguration.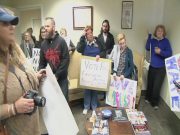 Posted in State News |

No Comments »