January 17th, 2017 by Mike Vasilinda
For the first time, the state department of Law Enforcement conducted more than one million background checks on people seeking to buy a gun. And as Mike Vasilinda tells us, 2016 also saw the biggest year to year jump in the number of people seeking to buy a gun.
State records show one million 37 thousand people had their backgrounds checked to buy a gun last year. It is the first time the number passed the one million mark. Brandon Long is the Gun Sales Manager at Kevin's Guns and Sporting Goods in Tallahassee. We asked "How would you describe the gun business this year?" "It's pretty good. It's doing real well" responded Long,
152 thousand more people sought to buy a gun in 2016 than in the previous year, also setting a year to year record.
Not everybody who goes through a background check gets a gun. Rejections run about one percent.
The inauguration of a new president is expected to take some of the heat out of the retail gun market. "Together we will defeat the rigged system" said Donald trump during his October appearance in the state Capital.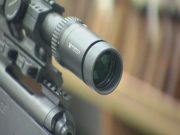 One dealer told us that everyone who was afraid of the government was coming for their guns already has all they need.
Stephen is a case in point. He's trading rather than adding a gun. He asked we not show his face on TV.
"Trying to upgrade what I have because I'm not accurate with it, so why have a gun if you are not accurate with it" says Stephen.
And Manager Brandon Long  is expecting a shift in the types of guns he's selling.
"We just don't see as much of the freak out buying, you know, people prepper buying and stuff like that. You see sales in other places. Hunting guns and handguns.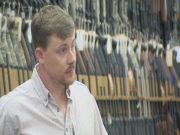 Passing a background check does not guarantee that a gun was actually sold. Nor does it mean the buyer purchased just one weapon.
Last year 13,603 is the exact number who did not pass the background check and who were refused the right to purchase a gun in Florida.
Posted in State News |

No Comments »