January 25th, 2017 by Mike Vasilinda
Calling themselves the guardians of the Glades, 20 African Americans living south of Lake Okeechobee came to the Capitol today to fight a plan to turn 60 thousand acres of sugar farmland into a water reservoir. The plan is the brainchild of the Senate President. He believes the water recharging area would prevent discharges that are harming water ways on both the east and west coast. But spokes person Tammy Jackson-Moore says the plan costs too many jobs.
"if the state is successful in purchasing this 60 thousand acres, we're talking about the closure of yet another sugar mill in the Belgrade area.  that sugar mill employee 600 people. when we're talking about 600 people, we're talking about thousands of family members. we're also talking about the potential local businesses going out of business because they don't have people in the area to support those businesses" says Jackson.
Big sugar is also against being forced to sell the land. Dozens of others showed up at a committee hearing to push for the land purchases.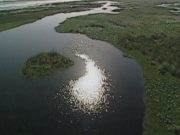 Posted in State News |

No Comments »