February 3rd, 2017 by Mike Vasilinda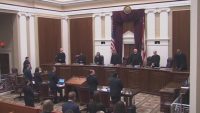 The Florida Supreme Court has been called the less equal branch of Government by one former governor and it is facing the ire of lawmakers upset over its redistricting rulings and its declaration the workers comp statute was unconstitutional. Lawmakers have responded with two plans. One limits appellate judges to two six year terms. the other would allow a two thirds vote of the legislature to overrule court decisions. Chief Justice Jorge Labarga was asked about both ideas at a morning news conference, but chose not to answer.
"You know, I'm a judge and I call balls and strikes. And I try to call them the best I can. that's what I was trained to do  and I'm not in a position to answer those kinds of questions and I'll leave it at that" says the Chief Justice.
Lawmakers may also try to change the courts rules during the upcoming Constitutional revision process. Any changes would require voter approval to amendment the constitution.
Posted in State News |

No Comments »