February 9th, 2017 by Mike Vasilinda
Women who suffer emotional stress or injury during an abortion could sue their doctor as late as ten yeas after the procedure under legislation approved by a House Committee in the state Capitol today.  Current law allows just a two year window for malpractice suits.
Of the 70 Florida thousand women who have abortions each year, estimated 1800 hundred have minor complications, but freshman lawmaker Erin Grall says she's spoken to women who didn't know they had a problem until years later.
"This is especially true of the psychological issues which may develop over time, or be underlying and triggered by a later event in life" says the first year lawmaker.
One of the first questions came from Democrat Barbara Watson and dealt with the uncertainty of allowing a law suit ten years later. that's eight years after the statute of limitations has run.
"Are we talking about every doctor's lifetime savings are now vulnerable to a law suit?" she asked.
The National Organization for Women and other opponents waived their testimony.
But the groups picked up two unlikely allies. Insurance companies and doctors.
Mark Delegal is an Insurance Lobbyist.
"This is bigger than the abortion issue, ladies and gentleman. This is a malpractice bill that indicts the current system" says Delegal, who is considered an expert in insurance law.
Erin Foster came from Tampa with her own story of an abortion.
"I made a difficult choice and I had an abortion. And despite growing up in a time and a place with people who think abortion is the ultimate sin, I don't regret it."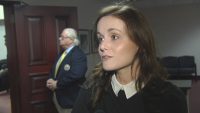 The bill was approved on a ten to six vote.
Erin Foster says there are no scars.
"I have thrived every since.
Federal courts have already stopped last years abortion law from requiring women to make two visits to clinic before a procedure.
It too was sponsored by a freshman, a practice know as carrying water for leadership.
An OGBYN from the University of Central Florida told committee members that having an abortion is no more dangerous than carrying baby to full term.
Posted in State News |

No Comments »