February 14th, 2017 by Mike Vasilinda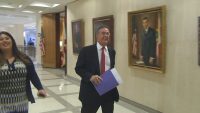 CFO Jeff Atwater met with Governor Rick Scott this afternoon to discuss legislative priorities, but Atwater said afterwards that Scott tell him he would take as long as necessary to name Atwater's successor. Atwater has resigned to take the CFO job at Florida Atlantic University, the same university he once applied for its presidency.
"The positions open now. The opportunity presents itself now. i do wish it was at a later date,, I spend much of my business career associated with the University. As a legislator, helped establish the med school there. My three children went there, so there's just been an incredibly deep affection" says the CFO.
Atwater says a salary level has not been finalized. He makes 129,00 as CFO.
Posted in State News |

No Comments »