March 7th, 2017 by Mike Vasilinda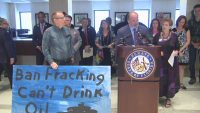 Governor Rick Scott used his State of the State address to point out jobs gains and call for more tax cuts, saying there have been 55 tax cuts totaling more than five billion dollars since he took office, but afterwards, activists held what they called the "Awake the State" news conference. Rich templin of the AFL-CIo says things are not rosy for most families in Florida.
"We're at the bottom of K-12 spending. we're at the bottom of higher education spending. Public schools, teachers' dn students are saddled with policies  driven by ideology and policies to privatize education, not by sound educational principles.  We're at the the bottom of health care access. at the bottom for health care access for children. Mental health programs are woefully underfunded" Templin told the crowd.
the activists also took aim at the Governor's support for restrictions on reproductive freedom and support for big sugar and utility companies.
Posted in State News |

No Comments »