March 9th, 2017 by Mike Vasilinda
Teens would no longer be able to buy cigarettes under legislation filed int eh state Capitol. State Senator Daryl Rouson has filed legislation to move the age up to 21. He says it will keep younger and younger kids from getting the habit.
"And we know the the greatest pathway of young teenagers obtaining cigarettes is are other teenagers, 15, 17, 18 yeas old, and we want to stop that because they don't understand the effect of nicotine the effect of impurities that are in tobacco smoke. Its effecting their health" says Rouson.
Rouson himself is a former smoker who understands the addiction.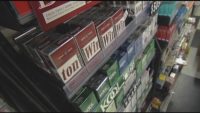 Posted in State News |

No Comments »