March 14th, 2017 by Mike Vasilinda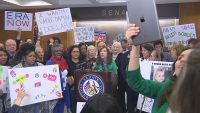 More than a hundred women jammed into the space outside the State Senate Chambers at midday to protest what they call unequal pay for women. Statistically, they say they earn just 87 cents for every dollar a man earns, prompting House minority leader Janet Cruz to lead them in a chant.
"I want the whole damn dollar. My mama wants her whole damn dollar. My daughter wants her whole damn dollar. My granddaughter will want her whole damn dollar. And every woman should want the whole damn dollar." chanted Cruz.
Florida is actually above the national average in equal pay for women, but it is due in large part to the high number of minimum wage jobs. Patty Farley of the Women's clubs of Florida says the inequality can add up over a live time.
"A young woman graduates from college into a thirty thousand dollar salary. Over her lifetime, she will make one point two million less than the young man who is graduating at her side" Farley told the crowd.
For high school graduates, the difference is seven hundred thousand dollars. the Democratic sponsored legislation is yet to have a hearing in the GOP controlled legislature.
Posted in State News |

No Comments »