April 4th, 2017 by Mike Vasilinda
After turning a blind eye for one hundred and eleven years, the state of Florida has taken the first step to officially apologize to hundreds or men  abused as boys in a state run reformatory, The revelations have come too late to hold those responsible accountable for their actions.
Florida opened the Dozier School for Boys in 1900. Tuesday was one of the few times dozens of former wards, know as the White House Boys for the building in which they were beaten, were able to tell their stories to a legislative committee. Captain Bryant Middleton spent 20 years in the army.
'And I would rather be sent back into the jungles of Viet Nam than to spend one single day at the Florida School for Boys" the Army Ranger told lawmakers.
To a man, each had a hair raising story. Donald Statton of Tampa went to Dozier in 1958 and was there until 1962.
"It never goes away. I was sexually abused. I was beaten to pieces" said a tearful Stratton.
Johnny Lee Daddy became a minister after seeing the horrors of Dozier from 1956 to 1961.
"I cried every day. I seen children being molested everyday" says the minister.
The testimony brought tears to some of the survivors as A Senate Committee voted unanimously to apologize to the men and everyone else. Sen. Rene Garcia (R-Hialeah) offered a verbal apology just before the vote.
"the least this body can do is saw we are sorry."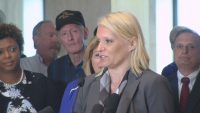 University of South Florida Anthropologist Erin Kimmerle is given credit for moving the state to apologize. She unearthed 55 bodies at a site when only 31 were expected. Many are yet to be identified.
"Over more than four years of research, Its a long and overdue day, and we're very excited about" Kimmerlie told reporters afterwards.
There's at least one living person who took part in the abuse at Dozier, but the statue of limitations has run on any prosecutions."
No decision on what to do with the massive property has been made.
House Speaker Richard Corcoran says he is open to compensating the victims of Dozier and that lawmakers are still looking for a way to bring justice to those who were abused. Many in Marianna, where the school site is located, want it turned into a park with no reminder of what went on there.
Posted in State News |

No Comments »