May 23rd, 2017 by Mike Vasilinda
Governor Rick Scott must decide whether to sign, veto, or let become law legislation allowing big box stores to sell alcohol inside their main stores. It is one of the most controversial issues to come out of the 2017 legislative session. As Mike Vasilinda tells us, supporters say the current law requiring liquor to be sold in a stand alone store is antiquated.
It's a common sight. A big box store with a liquor store attached. The law has required separate entrances since the end of prohibition. Michael Williams represents Floridians For Fair Business Practices.
"This law has been on the books for 83 years. It's something that's outlived it's usefulness. It's time to repeal it" says Williams.
Walmart, Cosco, Target and others pushed hard for a change and got it. On the other side, Publix, ABC, and independent liquor store owners. 4 dozen independent owners made one last call on the Capitol Tuesday. The Governor has until Wednesday to make a decision.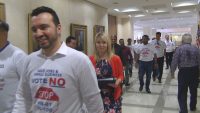 Chris Knightley came from Orlando, he says, to try and save his family business.
"We're hoping Governor Scott will veto SB106" says Knightley.
The independent owners say they can't compete.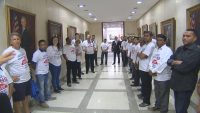 We asked the crowd "How many of you think you'll be out of business in five years if the Governor signs this bill?" Nearly every hand went up.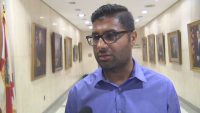 Karim Hemdara came from Springhill in Hernando County.
"Winn Dixie already has a liquor license. And they have exclusivity in the shopping center with the landlord, and they, you know, force me out of the shopping center in about six months time."
"The bill cleared the Senate by a two vote margin, and the House by just one vote."
Three House members voted no after the roll call but their votes don't change the outcome.
Scott says he is still talking to both sides.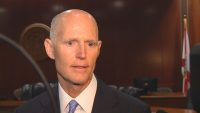 "A lot of feedback on that bill. You're right, I've had family members who have dealt, had challenges with alcoholism. It concerns me" the Governor told us.
Scott must decide by midnight Wednesday.
Here are the numbers from the Governor's office of people voicing an opinion on the liquor wall bill.
Phone: Support – 689, Oppose – 266
Emails: Support – 477, Oppose – 2686
Letters: Support – 8, Oppose – 575
Petition Signatures: Support: 0, Oppose – 3989
Sponsors say the law has not had an adverse impact in the more than 20 other states that have allowed big box liquor sales.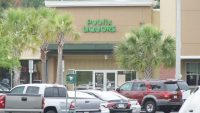 Posted in State News |

No Comments »