June 2nd, 2017 by Mike Vasilinda
State lawmakers will be headed back to the Capitol next week for some unfinished business. Governor Rick Scott today vetoed portions of the budget in what is an apparent deal to boost school funding and fund the Governor's top priorities.
Applause at Enterprise Florida's board of directors meeting greeted the Governor after he announced a tentative deal to keep the agency alive.
"This wouldn't, didn't happen because of hard work last week. it happen because of the hard work over months and months and months and months" Scott told the Directors.
Lawmakers will be back in the Capitol next Wednesday for three days. On their agenda,        increasing public school funding, putting 76 million into Visit Florida, and 85 million for attracting businesses. The deal was first announced in Miami  at a press conference in Miami.
"I want to thank our Senate President Negron for being here and Speaker Corcoran for being here" Scott said to open the event.
The presence of legislative leaders indicates there is a deal in concept.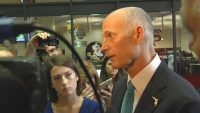 "You know the way I always think about it is I ran on jobs. And by doing that we have more money for education, More money for the environment. More money for a lot of things" says Scott.
Florida School Boards had been calling for a budget veto over inadequate funding, something they would have not done if the 210 million increase had been in the original budget. Andrea Messina is grateful the Govenror listened.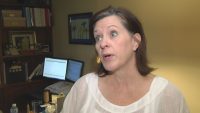 "We really appreciate that he listened to the letters and that he is recommending about a hundred dollar per student increase. So we'll see what happens next week" says Messina.
When lawmakers fill these halls next week, it won't be cheap. It's going to cost taxpayers between 50 and 70 thousand dollars a day.
The Governor denied there was a deal not to veto a massive charter school bill.
"Probably the only person that would know would be me right?" while he continued to say he was reviewing the legislation.
The charter school bill is the top priority of the House Speaker. He made the deal possible by backing down on cuts to Enterprise Florida.
Medical Marijuana is not among the unfinished business on the agenda for next weeks special session, but lawmakers can add it without the Governor's approval with a two thirds vote.
Posted in State News |

No Comments »