September 21st, 2017 by Mike Vasilinda
A ninth patient at a Hollywood nursing home has died following a power outage caused by Hurricane Irma. As Mike Vasilinda tells us, a war of words between administrators and the Governor continued today.
Six days ago, the Agency for Health Care Administration filed paperwork to deny new admissions where nine people have now died. The nursing home is shooting back, filing a 46 page request for an injunction.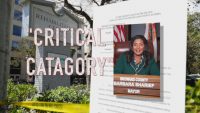 It asserts "The Broward mayor, Barbara Sharif, asked executives from the power company (FPL) to consider all the nursing homes and senior communities in the "critical" category, but was told there were too many to do so".
The denial came as Rise news reported that Miami State Senator Daphne Campbell bragged on You tube about calling an FPL lobbyist.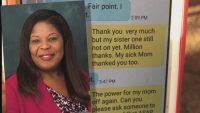 "As soon as text him an address, you got the lights." Campbell said in the video, also calling the lobbyists "phenomenal"!
Despite text messages Campbell shared with the news outlet, as well as the video, the Senator has said her phone was taken.
Ben Wilcox of Integrity Florida says the claims raise questions.
"I think on the face of it, it's pretty disgusting."
Q:"FPL say it maybe didn't happen?"
"Well, if it did happen , I think its an inappropriate use of political influence in a time when there is emergency conditions and people are suffering" says Wilcox.
"The Governor's office is also pushing back, It's release a timeline of every contact with the nursing home. It also lists emails that were sent trying to get the home's power back on.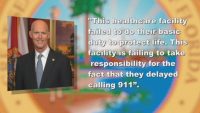 The Governor is also pushing back with a time line and 159 pages of back up documents showing every call made to the states emergency hot line, and follow up emails requesting power be restored to the nursing home.
In a Statement, the Governor says "This healthcare facility failed to do their basic duty to protect life".
The documents point to a nasty and lengthy legal fight that is just beginning.
FPL did not return a call or email when asked for a comment. On Friday, The state's nursing homes will meet in the state Capitol to discuss an emergency order issued by the Governor requiring generators at every home.
Posted in State News |

No Comments »