October 10th, 2017 by Mike Vasilinda
Following Hurricane Irma, tens of thousands of Puerto Ricans are expected to move, at least temporarily, to Florida. Today the Hispanic Chamber of Commerce made a plea for support for the new arrivals. Marucci Guzman, Executive Director of Latino Leadership says they will need all the help available.
"The highest need areas we've seen are housing, employment and health. We implore anyone listening who has housing options, employment needs within their company, resources related to health care we can provide, share them. We are working on building a job bank to get evacuees to work" pleaded Guzman.
A Center to help those fleeing the island territory has been set up in Orlando. New centers are expected to be opening soon in Tampa, Jacksonville, and South Florida. If you'd like to know more or to offer help, go to PRFamilyResponse.com.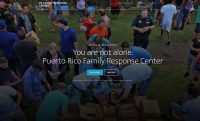 Posted in State News |

No Comments »