October 10th, 2017 by Mike Vasilinda
Voters in Orlando and East Hillsborough County are going to the polls today to elect new state representatives in special elections. Shortly after the pools opened, As Mike Vasilinda tells us, a new state Senator elected in a special election was sworn in as a House committee took the first step toward kicking one of it's members out.
The first female Hispanic Democrat to be elected to the state Senate was sworn in Tuesday.
"I am duly qualified to hold office" Toddeo affirmed.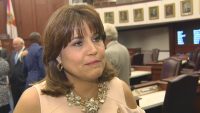 Annette Taddeo replaces a Republican who quit after making racist remarks this spring. She was outspent five to one.
"This race was a people powered campaign" she told us.
More turmoil saw a Plant City Republican cite health reasons when he quit. Orlando voters are replacing a member who became a judge. And a coming Sarasota special election will replace Alex Miller. She served less than 10 months before quitting after she crossed House leadership.
Nat sot: "Aye."
A select house committee voted to find probable cause against another House member. The Charge. Rep. Daisy Baez doesn't live in her district.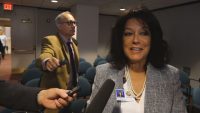 "We look forward to working with the committee to resolve this matter in an expedient way" is all Baez would say following the hearing.
Now stir Gubernatorial politics. Sen. Jack Latvala is running for Governor. He says House Speaker Richard Corcoran is the reason there is such turmoil in the usually staid legislature.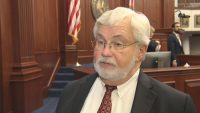 "The autocratic, dictatorial  way in which the House of Representatives has been run under this Speaker is just unprecedented in my memory" Latvala told us.
The House Speaker declined to comment on the Speakers allegations, but he'll like get another chance out on the campaign trail if he gets in the Governor's race as expected.
And in the end, all Florida taxpayers will pick up the tab for millions in special election costs.
Special elections in urban areas generally cost more than a quarter million dollars. Sarasota voters will vote in a primary December 5th, then a general election on February 13th, more than one month after the 2018 legislative session starts.
Posted in State News |

No Comments »