October 20th, 2017 by Mike Vasilinda
Bob Hurst has been playing the trumpet for more than 50 years. He found himself homeless  a little over a year ago, so he packed up his instrument and hitched a ride to the state Capitol,  where as Mike Vasilinda tells us, he's making friends and playing music.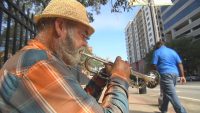 Bob Hurst started playing the trumpet at age six
Now 61, Bob was living in Tampa, but working in Miami as an electrical subcontractor on a three month gig. When payday came, he got stiffed, then tossed out of his apartment. That was 14 months ago.
"I've never been like this before" Bob told us. " But, in my opinion, it's not what happens to you, the events that happen to you, it's how you respond to them."
Now, five, six or seven days a week he can be found playing music on the streets of the State Capitol.
"I get to see people out here. I like it."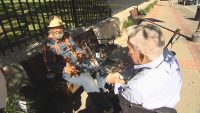 That's where he met the former president of FSU. Others bring him lunch.
"She's told me she hears me playing all the time. She appreciates me.
What he doesn't do is ask for anything. Somedays there is as little as three dollars in his cup.
"But I'm not doing it for the money. I'm doing it for the community and for myself."
Like many homeless, drinking has been a factor.
"I used to drink a lot, yeah. Now I drink very little."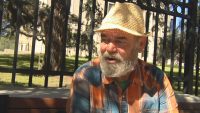 But never drugs.
"Most the guys I knew that were Jazz musicians, a lot of them were heroin addicts and it kinda scared me."
When he isn't playing, Bob is reading…often the bible.
Bob turns 62 in April, and he's hoping his Social Security will be enough to cover rent.
Bob also plays the blues…but he sure doesn't have them.
Posted in State News |

No Comments »