November 1st, 2017 by Mike Vasilinda
Last December, Capitol Correspondent Mike Vasilinda asked the Governor a question which resulted in a hearing before the State Supreme Court this morning. As Mike tells us, the issue is over who will appoint the next  three justices of  the state's highest court.
Florida has seven Supreme Court Justices. Three are set to retire on what will be the Governor's last day in office.
When Governor Rick Scott filled a vacancy on the Court last December, we asked whether he planned to try and fill those three vacancies.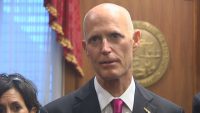 "I'll appoint there more justices the morning I finish my term" Scott told us on December 15, 2016.
Here ye, Here ye, Here ye.
A Wednesday hearing at the Florida Supreme Court is a direct result of the Governor's answer. The League of Women Voters filed a motion, asking the court to tell the Governor the three appointments are the next Governor's…not Rick Scotts to make. John Mills is also representing Common Cause and several individual board members.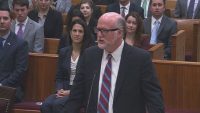 "They either expire at the very last second that Governor Scott is still in power, or a day later."
The court was clearly unhappy with the role of deciding who is going to make the next appointments. Justice Charles Canady and others questioned whether there was a need for them to make any decision at all.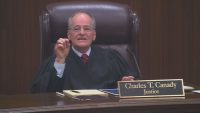 "This is all speculative. It's not…I'm having a hard time seeing how this is a ripe controversy" opined a slightly frustrated Canady.
In a rare twist, the Governor's lawyer admitted the power to replace the three retiring judges would fall to the next Governor as long as none of the current judges leave early and the Governor elect files the proper paperwork. Justice Alan lawson posed this question to Daniel Nordby.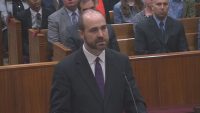 "I think your argument is that there are circumstances under which the Governor would not have the authority to appoint the replacements, correct?"
"Yes, ,Your honor." Nordby did say the Governor retains his power to appoint up until the final second he is in office, and that should the right circumstances fall into place, Scott would indeed make one or more appointments to the court.
Two decades ago, Lawton Chiles and Governor Jeb Bush avoided the same crisis when the two both agreed to appoint a single judge.
And how it all plays out may well depend on which party the Governor-elect represents
At stake is a constitutional crisis. If Rick Scott makes three appointments that are challenged, it could leave the court with just four sitting justices. The Constitution requires five to make any decision.
Posted in State News |

No Comments »