November 17th, 2017 by Mike Vasilinda
The death two weeks ago today, an FSU fraternity pledge after a night of drinking at an off campus homeport a dampen today;'s homecoming parade. Following the death,  FSU President John Thrasher banned alcohol at all school events and banned greeks from taking part in campus activities. Now as mike Vasilinda tells us, the President is taking the alcohol ban on e step further.
Hundreds, not the usual thousands, lined the route for FSU's homecoming parade. Alumna Nancy Bracewell as disappointed but not surprised,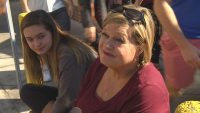 "What do yo think of the turnout" we asked.
"It's not good at all. It's terrible actually" Bracewell responded.
Members of this fraternity said they would have had a float if they had not been banned from all activity following the death of a 20 Pi kappa Phi pledge two weeks ago. The few people watching from the Pi kappa house scattered when they saw our camera.After banning alcohol at all student activities, FSU President John Thrasher has now banned alcohol from the President Box for homecoming and the following home game,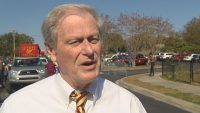 "I mean, I think it would be a little bit hypocritical for use to serve alcohol in our box and ask them not to do what they are doing" says the President.
On Thursday, the President eased restrictions against Greek organizations. He's allowing them to meet, but only with an advisor.
Students for the most part were taking the ban on Greek involvement in stride,
We caught up with Joyce Chiang riding on a float.
"Homecoming is supposed to be a time when we all come together and celebrate the school year, but obviously, we can't do that this year like we have. We have a sorority under us F 85 under us and they can't practice with the band homecoming, so it's a little upsetting, but hopefully everything will be better" Chiang told us.
2017 will likely be a homecoming to remember, but for all the wrong reasons.
The President has not set a timetable for when Greek activity may resume. A vigil was held for 20 year old Andrew Coffey on Wednesday night.
Posted in State News |

No Comments »