January 17th, 2018 by Mike Vasilinda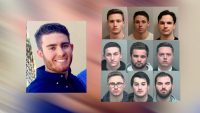 9 leaders of the Pi Kappa Phi Fraternity at Florida State University have been charged with Felony hazing following the November death of a 20 year old pledge. As Mike Vasilinda tells us, the nine could face up to five years in prison.
Only two of the nine had turned themselves in by mid afternoon. 22 year old Clayton Muehlstein and 20 year old Christopher Hamlin were released on 25 hundred dollars bond, ordered not to consume alcohol, or associate with others in the fraternity.
State Attorney Jack Campbell says he focused on the leaders of the frat that caused the death.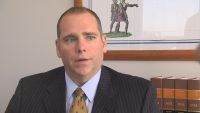 "A lot of thought went into exactly who to charge and who not, looking at the relative positions of each of the people and how they interfaced" says Campbell.
20 year old Andrew Coffey died November third at this off campus house after a night of drinking. His Blood alcohol  level was more than 5 time the legal limit for a DUI. The State Attorney says after investigating, the charges did not rise to manslaughter.
"So this is not a situation where they were driving a car while intoxicated, or shooting a gun through a setting where it hurt him. This was a pattern of hazing that had gone through the semester."
Because a death was involved, all nine face third degree felony charges. That charge carries up to five years in prison and a five thousand dollar fine.
Campbell says he has promised the family he would personally handle the case.
"And I promised them I would be with them good bad or whatever, but I will walk this walk with them."
In a statement, FSU President said These arrests are the first step in seeking justice for Andrew and his loved ones.
The charges come less than a month before the Florida Supreme Court hears a challenge to the states having statute. The State Attorney says he will decide if other charges are warranted if the court throws the statue out as unconstitutional.
Posted in State News |

No Comments »