January 22nd, 2018 by Mike Vasilinda
When White Supremacist Richard Spencer was shouted down at the University last fall  one state Senator had enough. As Mike Vasilinda tells us, universities, faculty, students or staff who interrupt a scheduled speaker could be liable for up to a hundred thousand dollars in damages under legislation being heard at the Capitol on Tuesday.
Protestors of any kind wouldn't be stuck in free speech zones on college campuses under legislation pending at the State Capitol.  Sen. Dennis Baxley (R-Ocala) is the sponsor.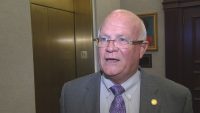 "The very fact that you would be relegated to a free speeches zone tells you you don't have free speech" says Baxley.
Baxley proposed the "Free Speech on Campus" legislation after white supremacist Richard Spencer was shouted down at the University of Florida last October.
'We've got to get away from this idea that none of us can hear something that we object to."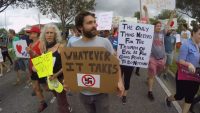 In addition to outlawing free speech zones, the legislation allows a court to imposes a minimum five hundred dollar civil fine for university students, faculty or staff for disrupting a previously scheduled activity.
"We've got to learn to debate ideas rather than just yelling and screaming" says Baxley.
A Brookings Institute study has found that among college students, 51 percent think its okay to shout down someone with whom they disagree.
"I think most college students, like, actually understand the first amendment. They might just let their emotions get the best of them" says FSU student Sarafina Cruz.
The legislation gets its first hearing in the House on Tuesday. No hearings are scheduled in the Senate.
While passage is a long shot, just hearing the bill is expected to send a message to University administrators that all speech is to be protected.
Posted in State News |

No Comments »