January 23rd, 2018 by Mike Vasilinda
Police being able to stop you for texting while driving without first observing another violation is one step closer to becoming the law of Florida tonight. But s Mike Vasilinda tells us, African American lawmakers worry the change could open the door to harassment by police.
State Senator Bobby Powell used to be a police dispatcher. He told a Senate Committee he was 19 the first time police stopped him.
"tag light was out"
And says he' been on the wrong end of a police stop at night.
"I was verbally abused, yelled at, cursed at" says Powell.
Powell's opposition to stronger anti texting legislation prompted Demetrius Branca, who's son Anthony died after being hit by a texting driver,  to argue the good in the bill outweighs the bad.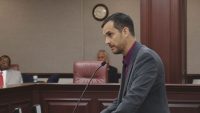 "If we hesitate now, people are going to die" says the Dad working tirelessly to pass a primary enforcement bill.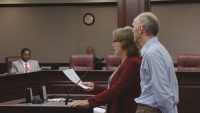 Other parents, like Debbit Wanninkhof, shared their stories.
"He was killed in Oklahoma by a cell phone distracted driver" she said of her son Patrick.
Before a vote, lawmakers added a provision requiring the state to keep track of who is being stopped.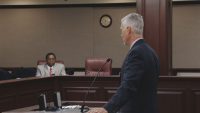 Sponsor Keith Perry says in the end, the legislation will send a message.
"We're not trying to pull people over. We're trying to change behavior" Perry told fellow Senators.
Sen Audrey Gibson of Jacksonville was the other no vote. She argues requiring hands free driving takes away the incentive for discrimination to play into who gets stopped.
"It's very obvious someone is using a phone when you have hands free."
Discrimination is a problem, acknowledged Florida police chiefs. They say they are working to stop it.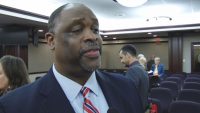 "It's a valid concern, but law enforcement works very hard to implement the appropriate training" says FSU Police Chief David Perry. He came to the committee representing the Police Chiefs Association.
One of the questions asked, Can we text while's were stopped at a light? The answer is yes.
But not while you are driving, unless you want to risk a thirty dollar ticket.
The legislation has one more committee before being voted on by the full Senate. Last week, Governor Rick Scott said he favors the tougher law.
Posted in State News |

No Comments »