February 5th, 2018 by Mike Vasilinda
Two dozen advocates sang, and prayed, while suggesting their is a war against the poor being waged at the State Capitol. Similar events were held in 31 other State Capitols today. The Rev. Ron Rawls says families cannot make ends meet because of
A low minimum wage and lack of affordable housing.
"In St. Augustine Florida and many places in our state, a person working a full time job earning minimum wage, has to dedicated one hundred percent of their paycheck to secure shelter, and find another job to eat, pay for emergency room visits, and god forbid they have a school aged child" says Rawls.
The group also took aim at legislation that would require labor unions to represent at least half of those employed or face decertification. The so called union busting bill has cleared the state House.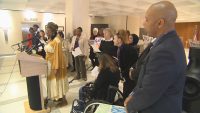 Posted in State News |

No Comments »