February 21st, 2018 by Mike Vasilinda
For the second day in a row, state lawmakers passed on debating an assault rifle ban as dozens of survivors from last weeks school shooting watched. As Mike Vasilinda tells us, legislative leaders say the debate will happen…but just not yet.
At it's first meeting since the deaths at Marjorie Stoneman Douglas High, the Florida Senate paid tribute to the victims…through a slide show to a moment of silence.
"Please Rise" asked Senate President Joe Negron.
Two gun bills, including one allowing concealed carry in churches, were on the agenda…until controversial amendments banning assault rifles and adding waiting periods were filed.
Sot: Sen. Joe Negron
Senate President
"Show the next bill temporarily postponed" the President announced when the bills turn came up.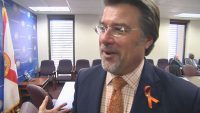 Amendment sponsor Gary Farmer wanted to know when the bills would come up.
"Today, the bill has been temporarily postponed" Negron responded curtly.
We asked Farmer about the delay.
"Should we be surprised?"
Q:"Are they afraid of the debate?"
"Yeah, Yeah, they are afraid of the debate, I think" he told us.
Senate sponsors say they will keep trying to amend an assault ban on any gun bill that goes to the Senate floor.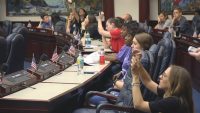 In a long Q&A with the Douglas students, the House Speaker defended the procedural vote, taking dozens of tough questions, including one from MSD Junior  Alondra Gittelson.
"The AR-15 did so much damage. How is an individual in society allowed to acquire such a gun?" She asked.
In the end, the Speaker said an assault rifle ban wasn't likely, but money should be no object.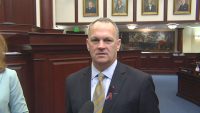 "If its 200 million, its 200 million. The issue is not the number, the issue  solving the problem" says Corcoran.
And the admittedly exhausted students said they were tired of what they were hearing.
Ryan Deitsch is a senior at Douglas.
"They're using political double talk as much as they can."
And Delaney Tarr added a warning.
"The people around us failed us, and if the continue to fail us, they will no longer be in office. Because soon we will be given the ability to vote, and we will vote them out" she said during a news conference
Whether or not they win a ban this year, it's clear the Students have put an exclamation point on the gun debate.
The Governor has promised to announce his plans to prevent future shootings on Friday. Legislative leaders say the conversations at the Capitol have been on going since the shooting.
Posted in State News |

No Comments »