February 26th, 2018 by Mike Vasilinda
The deaths of 17 people in South Florida and NRA support for state lawmakers is fast becoming the hottest issue of the 2018 campaign season.  As Mike Vasilinda tells us, some are also suggesting students stop coming to the sunshine state for spring break.
This ad ran Sunday in the the South Florida Sun sentinel. It seeks to recruit candidates  to run against two dozen state lawmakers who have high marks from the NRA and have no opposition.
Nat sot "First time you've seen it? That's right"
The ad was a surprise to  Heather Fitzenhagen of Ft. Myers.
"We can never go far enough for some people and too far for others. So what I have to do is try and do what my constituents elected me to do, and that is represent them" says the Ft. Myers lawmaker.
Nassau County freshman Cord Byrd is also on the list.
"They don't give me marching orders. They don't tell me what to do. I follow the constitution" Byrd told us.
We talked to the targeted lawmakers as 900 more protested outside the Capitol
"Vote them out"
"In addition to chanting vote them out, there's also a call for spring breakers to boycott Florida."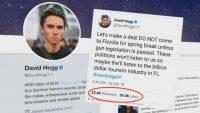 A Saturday tweet from a Marjorie Stoneman Douglass survivor urging the spring break boycott has more than 59 thousand likes and 23 thousand re-tweets.
Sen. Jeff Brandes chairs the Senate tourism appropriations committee,
"And if they don't want to enjoy our beaches, OK" says Brandes.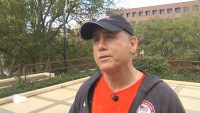 After leading a gun control rally, Democratic Gubernatorial hopeful Phillip Levine says tourism has already taken a hit.
"Do you think 17 people being killed with an AR-15 in a high school is good for tourism? Do we think the Pulse nightclub killing is good for tourism?" He asked.
The attention to far to electoral politics is almost sure to guarantee we'll be hearing about the failures that allowed d Nikolas Cruz to slaughter students well into the fall.
Posted in State News |

No Comments »