March 1st, 2018 by Mike Vasilinda
Opposition to arming teachers is building at the State Capitol tonight, delaying a vote on comprehensive gun legislation, and as Mike Vasilinda tells us, it has also prompted the Governor to make a rare appearance this afternoon at House and Senate sessions.
Governor Rick Scott and the the father and brother of slain student Alaina Petty made an extraordinary appearance before the House and Senate Thursday afternoon.
"I'm here to ask each of you to set politics aside at this moment" said Petty.
The Full Senate was scheduled to cast its first votes on comprehensive gun and mental heath legislation, but pulled the bill.  Scott said afterward the Legislature must act.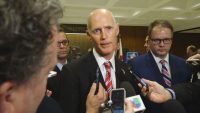 "I don't believe we should be arming teachers….I believe we have to make sure we have the funding to do superb law enforcement."
But votes for the package are starting to evaporate. Moderate Republicans like Rep. Chris Latvala (R-Palm Harbor) want an AR-15 ban.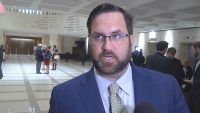 "The NRA already doesn't like me" he told us.
Conservatives are objecting to raising the age to purchase a rifle to age 21.
Ryan Petty is concerned.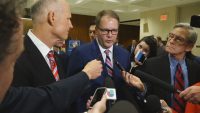 "If this devolves into a gun control debate, we're going to miss our opportunity to get something done" Petty told reporters.
The Black Caucus is down on the bill. Sen. Perry Thurston is their chair.
"We are against guns in school. We want to see an assault weapon ban" says Thurston.
One member, Kimberly Daniels, broke with the caucus.
"The NRA is against this bill. So, I'm going to be for this bill."
If lawmakers can't work out their differences by a week from Friday, bet on a special session.
And while Rick Scott says he does not want to arm teachers, when pressed, he would not say he would veto School Marshall's if approved by lawmakers.
Posted in State News |

No Comments »