March 2nd, 2018 by Mike Vasilinda
Legislative Leaders are counting votes and twisting arms to get a school safety package to a vote. The State Senate has scheduled a rare Saturday session to begin taking up amendments, but as Mike Vasilinda tells us, the House vote may be too close to call.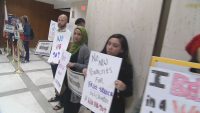 Friday began with more than two dozen students lining the hall to the House Chamber. They're protesting plans to arm teachers. They were joined by the Principal  Billy Epting from Leon High, the oldest public school in the state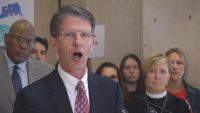 "I can not agree to arming teachers to be a part of this discussion" he told reporters.
And former Marjorie Stoneman Douglass Student Body President Barrington McFarley.
"The last thing we ned to do is weigh them with the additional burden of training and carrying weapons" says McFarley.
The House, however, remains deeply divided on the issue of arming teachers.
State Rep. Rep. Sean Shaw (D-Tampa)  says  "I will not vote for it under any circumstance"
But Rep. Larry Ahern (R-St. Petersburg) supports it. "I think it stays in and is part of the again, a deterrent."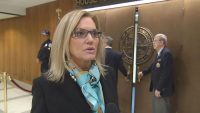 Rep. Heather Fitzenhagen says the House is in the process of retooling its bill while waiting to see what comes from the Senate…She says the Marshals program is being misunderstood.
"You may, if your school wants you to be.and you fit the criteria, be a marshal. No school has to have  a marshal" says Fitzenhagen, as House leaders try new messaging about the idea.
Some Democrats were told they would have to give up raising the age to buy a rifle if the Teacher Marshall program is stripped from the bill.
GOP members are being told to stick with the plan or lose hometown funding in the budget. Ahern says that nothing new.
"That's part of the process we go through sometimes, but look, at the end of the day, you have to decide what's important."
More than a thousand people are expected at the Capitol Sunday for a pro gun rally.
Posted in State News |

No Comments »