March 19th, 2018 by Mike Vasilinda
Dozens of proposals that could affect how Florida Government works are up for discussion at the state Capitol at the once every two decades Constitution Revision Commission. As Mike Vasilinda tells us,  everything from how elections are run to whether greyhound racing should continue are on the table.
The Constitution Revision Commission has only met twice before. 1978 and 98.
"30 yeas, 3 nays"
On Monday, the 37 member panel got down to debating what should and should not be in the Constitution.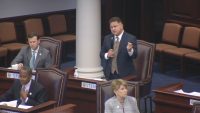 "I believe that the Constitution is reserved for rights that are fundamental and important" CRC Commissioner Tom Stemberger told commissioners.
Commissioners have introduced 103 proposals. Some want the commission to to what lawmakers have refused to do, like ban greyhound racing. Veteran State Senator Tom Lee says the Commission can go where no commission has gone before.
"This body has a unique opportunity to go directly to the voters with things special interests groups have been successful time and time and time again at killing in the Florida legislature" says Lee
A retired Supreme Court Justice says just because the Commission can do something, doesn't mean it should.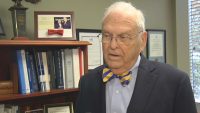 Former Chief Justice Major Harding says the constitution is no place for proposals that could be done by lawmakers,
"And deal only with those things that go to the basic foundation of government" says Harding.
But the states elected sheriffs, tax collectors, property appraisers and Clerks of court see some counties trying to weaken their responsibilities. They want the CRC to protect their jobs going forward. Chris Nocco is both the Pasco County Sheriff and CRC Commissioner.
"Our offices are rely on our citizens, and every four years, we'll be judged. We'll be judged by what we do" says Nocco, as he defended local officials.
The commission must come up with a final list for the November ballot by early May. Then 3 of 5 voters must approve.
In the coming days, the Commission is expected to vote on easing restrictions on school vouchers and on whether no party voters can cast ballots when only one party has a candidate, ending the write in candidate loophole.
Posted in State News |

No Comments »