March 22nd, 2018 by Mike Vasilinda
U-S Attorney General Jeff Sessions madd his first public appearance here in Florida since distributing a memo to prosecutors yesterday, urging them to seek death sentences in the fight against opioids. As Mike Vasilinda tells us, his visit to the state Capitol comes as the state prepares to sue drug makers.
The U-S Attorney General's visit comes one day after this memo was sent to Federal prosecutors urging them to seek death sentences for some drug dealers.
He spoke to a room of 100 local state and Federal law enforcement officers.
"Career drug traffickers can take more lives than even a mass murderer. Overdose deaths are up, and gang violence is up, and we need to reverse those trends. The President has ordered us to seek the death penalty in those cases where its appropriate to do so" said Sessions.
On Monday Governor Rick Scott signed legislation restricting opioid prescriptions to either a three or seven day supply.
"We are gonna do everything we can in this state to help individuals not become addicted. If they are, try to get them off of it" Scott told reporters.
Florida Attorney General Pam Bondi says the state is continuing to interview outside law firms for an expected lawsuit which will allege drug companies encouraged doctors to overprescribe opioids.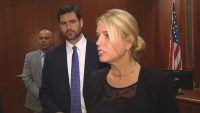 "It's in their best interests to attempt to resolve it as soon as possible" says Bondi, "and at least correct their conduct. Then we'll go back and get all the money they owe these people."
The lawsuit, if filed, will be similar to what Florida did in the 1990's when it sued tobacco companies. Florida eventually recovered the more than 400 million a year it was spending treating diseases caused by their products.
The Attorney General estimated the cost of the epidemic at a hundred fifteen billion dollars a year to the national economy.
The Attorney General also said the Federal government would increase funding to fight the opioid epidemic to as much as six billion dollars over the next two years. He said some of that money would be used to assist local governments who are suing the opioid makers.
A number of Florida jurisdictions (Alachua, Broward, Hillsborough, Miami-Dade, Palm Beach, Calhoun, and Panama City) have already filed their own law suits against drug makers, seeking to recover the costs of emergency visits and drug overdose kits.
Posted in State News |

No Comments »