March 23rd, 2018 by Mike Vasilinda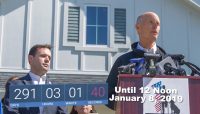 Governor Rick Scott says a decision on whether he will run for the US Senate this fall is on the Horizon, but as Mike Vasilinda tells us, some of the things Scott has been saying leave little doubt he will run.
As this countdown clock shows, Rick Scott's days as Governor are running out.  One of the worst kept secrets in the Capitol is that Scott has his eyes on Challenging US Senator Bill Nelson in November, but when asked, he isn't tipping his hand.
"Most politicians  think about their next job. I've got to finish the job here" Scott told the Florida Channel on Wednesday.
But the Governor is sending clues. When announcing his plan for school safety last month he was asked specifically about Nelsons record on guns.
"So Bill Nelson is a career politician. He talks a lot. He does nothing."
Then the day he signed the school legislation he volunteered this:
"I want to point out this is a far different way of operating than they typical inefficiency we see from the Federal government in Washington."
He did the same thing four years ago when he signed a non political tax cut,
"In 2009 Charlie Crist raised this tax on all Florida families that had a car."
Criticizing Charlie Crist, the man who would run against him in 2014.
So far, four Republicans have filed to run for the US Senate, but you've never heard of any of them.And the lack of a high profile republican is a definite sign that this is rick Scott race, if he's in.
But Scott has no reason to be in a hurry. He waited until April before announcing his first run in 2010..at the time, his was a near total unknown…and he still won.
The race between Scott, if he files, and Nelson is expected to be the most expensive ever in Florida and that's saying a lot after Rick Scott spent more than 80 million of his own cash to get elected in 2010.
Posted in State News |

No Comments »