April 4th, 2018 by Mike Vasilinda
Governor Rick Scott and the state's three Cabinet members are asking a federal appellate court to stay a ruling that Florida's Clemency process is unconstitutional. As Mike Vasilinda tells us, in 2005, the same court where the appeal was filed ruled the state process was legal.
In his ruling declaring the clemency process unconstitutional, Federal Judge Mark Walker cited the case of Steven Warner.
"And why did you vote illegally?" Asked Governor Rick Scott.
It was his response that got the judges attention.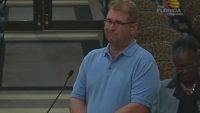 "Ah, I applied for voting rights and actually voted for you" Warner shot back.
In it's appeal, the state says there was no favoritism even if Warner did get his rights back after saying he voted for the Governor because two other board members had to go along.
"I move to grant restoration of civil rights" motioned Scott.
"Agreed" 
"Agreed" said two of the three members.
In its filing, the state says far fewer people who are given their rights back go back to prison, because they are making better decisions.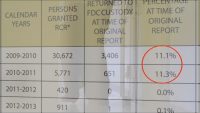 It cites statistics showing out of the 36 thousand who got their rights back prior to the new system, 11 percent ended up going back to prison. But since 2011, 43 hundred got their rights restored. Just 10 went back to jail.
Human Rights Attorney Mark Schlakman: "The disparities are off of the charts."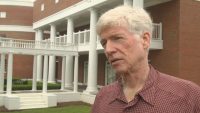 Mark Schlackman says those numbers may not work in the state's favor, even though the appeal was filed with the 11th Circuit in Atlanta. That's the same court that upheld Florida's system in 2005. 
"And the numbers are so strikingly low, it's entirely possible the court may depart from it's precedent" says the human rights expert.
The appeal isn't likely to be settled before voters decide the fate of the Clemency process in November.
In filing the appeal, the state is also delaying a potential flood of new voters who would have had their rights returned under the court order.
Amendment four collected more than 840 thousand signatures to get on the November ballot. A February poll shows the Voter Restoration Amendment with 71 percent approval, with only 22 percent opposed.
Posted in State News |

No Comments »