February 21st, 2017 by Mike Vasilinda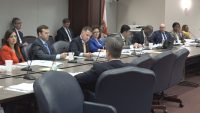 A House Committee has adopted legislation prohibiting legislators from lobbying for six years after leaving office. The current ban is two years.If the Senate goes along, voters must ultimately approve the legislation…but State Rep. Lori Berman says the legislation is off to a good start.
"This makes sure that we aren't becoming a revolving door of lobbyists you know. This is clear that is not the intent of the legislature and not something we want to see in our state" says Berman
The legislation also closes a loophole that let the Secretary of Environmental Protection leave for a law firm he had hired as during his tenure as DEP Secretary.
Posted in State News |

No Comments »