May 26th, 2009 by Mike Vasilinda
180 National guardsmen are on their way to Iraq. They participated in a
deployment ceremony at the state capitol Tuesday then boarded a
plane to finish combat training before being sent overseas. As Mike
Vasilinda tells us, the 779th Engineer Battalion's job will be to wind
down the U.S. presence in the mid east.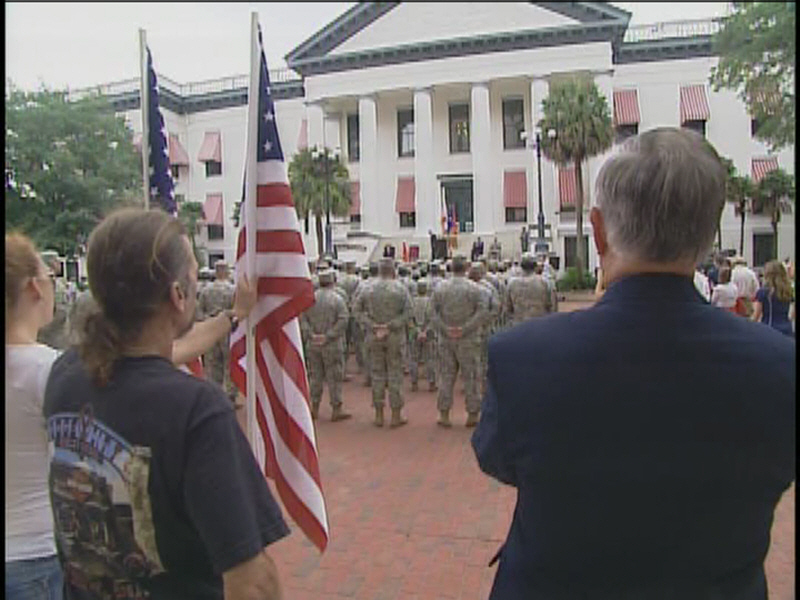 The 180 soldiers came from Miami, Pensacola, and all parts in between.
They will spend the next year in Iraq. Their deployment drew praise from
the Governor.
"You are truly heroes," Governor Crist said. "Extraordinary heroes. And I thank you for that."
Lt. Colonel Dwayne Jarriel asked family members staying behind to be
patient and loving.
"You play a major role, and believe me, without you, we would not be
successful," Jarriel said. "So I ask for your continued support."
This is the commander's second tour of duty. He leaves behind a wife and
three kids, including a 13-month-old daughter.
"I tell you, I have a renewed respect for any single parent," Penny Jarriel said. "Because it
is by far the hardest job."
These soldiers will spend the next month in Wisconsin, doing advanced
combat training. Then to Iraq by July 1st.
The mission in Iraq, subject to change, is to dismantle US bases as
forces are reduced.
Sargent Amanda Curcio admits to being just a little nervous.
"Well, I mean, there's always a fear of what's to be expected," Curcio said.
"Everything is always changing over there. But the people I'm with are
very competent, so I'm sure I'll be OK."
The deployment still leaves about 11 thousand active national guard
troops in the state for hurricane duty if needed.
In addition to having enough troops in the state for
hurricane duty, the Guard says thanks to Congress, it is never been
better equipped to carry out it's mission.
Posted in Charlie Crist, State News |

1 Comment »