July 31st, 2013 by flanews
Most teachers will see a pay raise this fall thanks to state lawmakers. Lean budget years have also cut money for classroom expenses, forcing teachers to dig into their own pockets. But, teachers in need of paper and pencils may not have to dig as deep this year.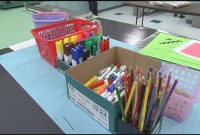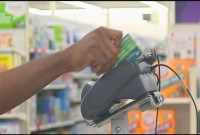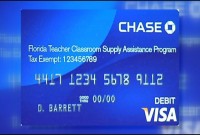 In a few weeks – school hallways will be filled with students. First grade teacher Bridget Gainous says she is anticipating a new year with new incentives.
"That's really exciting and anything teachers can get is always wonderful," said Gainous.
Wednesday morning, Governor Rick Scott tweeted a new teacher debit card. The card is part of a classroom supply assistance program allowing teachers to spend up to 250 dollars on items for their classes. The cards will be distributed in the upcoming weeks.
According to Ganious, "This will help cut down on some of the costs I have to spend out of my own pocket."
As teachers get to ready to go back to school, the teacher debit card comes at a perfect time as this weekend kicks of the sales tax holiday weekend.
John Fleming with the Florida Retail Federation says the sales tax holiday will generate an estimated 400-million dollars for the state.
"That's an added increase in revenue in sales you wouldn't see without a tax holiday. It's a pretty big boost for retailers and it's a good bargain for Florida's families," said Fleming.
The sales tax holiday has been in place since the late 90's with a two year hiatus in the late 2000's. The sales tax holiday applies to clothes, school supplies and, for the first time, to computers.
"That's a pretty big tax savings you'll be able to get this weekend," said Flemming.
Remember this, there are price caps on the sales tax holiday. You can only spend up to 75 dollars on clothing, 15 dollars on school supplies and 750 dollars on computers.
For years teachers have been reimbursed for some school supplies. In the past, they would have to use their own money first, instead of having a debit card.
Posted in State News |

209 Comments »