November 10th, 2016 by Mike Vasilinda
After thousands protested President elect Trump nationwide last night, one lone protestor was in front of the State Capitol in Tallahassee today. Wes Armstrong told us he feared what Trump may do for immigrants and gay rights. he's calling on the people who vote in the electoral college to honor the popular vote and give the presidency to Hillary Clinton.
"The election was for the electoral college to see how thee american people wanted to vote. And as close as it was, all the electoral college needs is to sway 38 votes and they have 38 days to do it."
Q:"So you are encouraging them to avoid the mandates from their government."
"Absolutely" responded Armstrong.
Most states bind their electors to vote based on the vote, but not all require the commitment.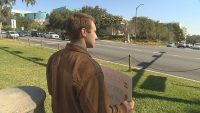 Posted in State News |

No Comments »