November 17th, 2016 by Mike Vasilinda
Governor Rick Scott was in New York City today meeting with Donald Trump. The meeting continues to fuel speculation that Scott will be offered a position in the administration, but as Mike Vasilinda tells us, it is more likely an offer will be made to Attorney General Pam Bondi, who is celebrating her 51st birthday today.
Rick Scott's twitter page says he went to the big apple to congratulate the President elect and offer his help. Still, the trip continues to fuel speculation Scott will be offered a job. He told us last week he wasn't interested.
"I'll do anything I can to help President elect Donald Trump to be successful. But I like this job and I want to finish this job" Scott said the day after trump's victory.
And a top advisor says he hasn't changed his mind. Melissa Sellers Stone is Scott's Former Chief of Staff.
"I think the Governor has been clear, he has the job he wants, but he is very excited for America and the future of our country" says Stone.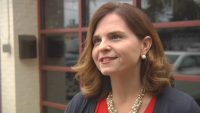 Scott this week acknowledged what has been speculated for more than a year. He is eyeing the US Senate seat up for grabs in 2018.
While Scott has a path to another statewide office. Attorney General Pam Bondi may not. making a DC appointment more likely.
If Pam Bondi were to take a job with Trump, Rick Scott would name her replacement.
"I think the Attorney General does a wonderful job" the Governor told us when asked if trump should consider appointing Bondi.
Three names are surfacing as a potential replacement for Bondi. In a text, Incoming House Speaker Richard Corcoran told us flat out no, he doesn't want the job. Incoming Senate President Joe Negron did not return our call.
The third name and likely frontrunner is a trusted Scott former appointees. Jesse Panuccio was a lawyer for Scott , then ran his jobs agency during the recession. Panuccio left that job last year saying he wasn't gone forever.
"I think in the future there will be a role in public service." Panuccio went on to tell us last December that he didn't know what or when he would return to public service.
Panuccio is currently practicing law in Miami.
More names for Attorney General will likely surface if and when a Bondi appointment in the Trump administration moves forward. The 51 year old Attorney General met with Trump at Trump Tower yesterday.
Posted in State News |

No Comments »