January 9th, 2017 by Mike Vasilinda
Legislation to allow concealed carry permit holders to carry in the baggage claim and other non secure areas of Florida airports was in the works long before Friday's mass shooting in Ft. Lauderdale. But as Mike Vasilinda tells us, sponsors say the horrific event may help push the legislation into law.
Taking a gun into an airport in Florida is a misdemeanor, punishable by up to a year in jail. Friday's rampage in Ft. Lauderdale has given new life to an effort to allow guns in those non secure areas of airports says bill sponsor Sen. Greg Steube (R-Sarasota).
"And the law didn't prevent a suspect from coming in and shooting a bunch of people. The only thing that the law did was prevent law abiding citizens from defending themselves" says Steube.
The idea came before just one committee in early 2016. Sen. Wilton Simpson presented the bill on Feb 16, 2016, and told the committee "48 other states already allow this activity to happen" said Simpson. "So that so Florida is obviously one that does not."
The legislation cleared the committee on a three to two vote, despite opposition from all 19 of the states airports. But Democratic Leader Oscar Braynon believes the idea is doomed again this year.
"Too many guns leads to things like this, where someone who is mentally unstable can do this kind of thing.You know, I happen to disagree with people who believe that if someone had a gun and could have shot the man" says the Democratic leader.
The bill was supposed to come up on Tuesday in a Senate Committee, but when there were not enough votes to pass it, the sponsor cancelled the committee meeting.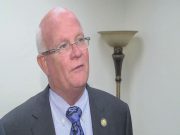 But second amendment advocates aren't giving up. Sen. Dennis Baxley (R-Ocala) says he doesn't know if the bill had passed last year if it would have made a difference, but "The face is no one in that area was armed to stop this man who was simply walking around shooting people."
The sponsor expects the legislation to come up in late January.
While doubters say multiple guns will lead to confusion at a crime scene, sponsor Greg Steube says there is no evidence of armed citizens being confused by police at any crime scene in America where a concealed carry permit holder has shot a suspect.
Posted in State News |

No Comments »