February 1st, 2017 by Mike Vasilinda
Governor Rick Scott is proposing spending 558 million more on public schools this coming year, but if the Governor gets his way, it's not the state that would be putting the money up, but local taxpayers.
The assessed value of this home has grown in each of the last three years
From 117 to 121 to now 124 thousand.
And with each rise in value, property taxes have gone up.
The tax bill on the house, a hundred and twenty nine dollars higher than it was in 2014.
Statewide, the collective value of the taxes on increasing values is 558 million this year. Governor Rick Scott wants to use all of that money to increase school funding.
"When your house goes up in value, most of us like that" Scott says.
And while the amount of money being collected from property owners is higher, Scott says that isn't a tax increase.
"If you change the rate, that's tax increase. But if you spend more money this year because you happen to buy a boat you didn't buy the year before, the state didn't raise your taxes" says the Governor.
But House Speaker Richard corcoran doesn't see it that way.
"He raises property taxes" says Corcoran.
Last year, the state used 420 million dollars to keep the amount of required property taxes being paid from going up. The House plans to do the same thing gain this year.
"I've said it a thousand times. The House will not raise taxes" Corcoran reiterated.
If the House wins this philosophical battle, all property owners win. It Scott prevails, businesses will see lower taxes on rent. Both sides agree there isn't enough to do both.
The Governor supported last years reduction in property taxes and  even included the amount in his total two year tax reduction of a billion dollars.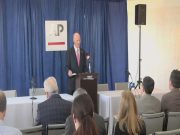 Posted in State News |

No Comments »