February 10th, 2017 by Mike Vasilinda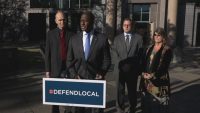 A two page bill filed in the state legislature has local governments up in arms. the legislation would take away the rights of cities and counties to pass regulations on businesses, including where medical marijuana dispensaries or liquor stores could be located. Tallahassee Mayor Andrew Gillum calls the idea draconian.
"Everything from nosiness signage to where businesses can be located, to environmental rules. You name it. This bill seems take aim at it" says Gillum.
The Sierra Club has joined the protest. David Cullen is concerned statewide urban turf fertilizer rules would be set too low for some of the most at risk areas of the state.
"Southwest Florida has had serious problems with algal blooms caused by nutrient pollution" says Cullen. "If those communities are not able to control the level of nutrients going into their water at the source, which is the best way to deal with pollution. It is much easier to take care of it by stopping it at the source rather than trying to get it out once its in there."
The bill was assigned to two committees on February 9th. No hearing have been scheduled on it yet.
Posted in State News |

No Comments »