February 17th, 2017 by Mike Vasilinda
Thousands of families of people who died from smoking may benefit from legislation being considered at the state capitol that could speed up settlement payments from big tobacco, and as Mike Vasilinda tells us at issue is a 2009 law that treats tobacco differently than the industries.
Florida receives between 350 and 400 million a year in tobacco settlement dollars. Because of that, Lawmakers gave the industry a special law in 2009: they are not required to put up as much cash as other industries when they lose a lawsuit and appeal.  But now there is a move to require the same bond as everyone else. Jimmy Gustafson of the Florida Justice Association says tobacco has been dragging its feet settling cases.
"This statute gives those companies an incentive to just eep on appealing until the last dog has died" Gustafson told lawmakers.
Significantly more people have sued big tobacco in Florida than any other state. The reason,  a 2006 Supreme Court  ruling.0
But Keith Teel, who represents Altria, told lawmakers without the special treatment, it could have to pay so much to appeal it could be out of business.
"The problem with a bankruptcy is that all of the payments would have gone away."
Then Rep. Sean Shaw (D-Tampa) asked: "Are you suggesting that if this bill passes, it will affect your ability to make settlement payments?"
"No" Teel responded.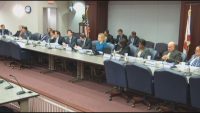 The Committee approved the bill 14-1.
We tried to ask Teel  about the apparent conflict.
Q:"What happens to you…"
"I have no comment. You heard my testimony."
Jay Fant of Jacksonville was the only no vote.
"And we have an expectation on our funding that we will get those settlements from the tobacco companies, and there is a balance to that. I just don't want to upset the balance" reasons Fant.
Tobacco does say that every judgement again ti has been paid quickly…the trail bar says its because they drag out the appeals as long as possible.
The hearing before the House committee was the only committee assignment in the House, so the legislation is ready for a floor vote. The legislation has yet to be heard in a Senate committee.
Posted in State News |

No Comments »