February 21st, 2017 by Mike Vasilinda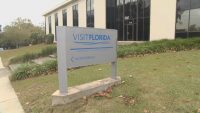 The House Appropriations Committee this afternoon approved legislation abolishing Enterprise Florida, the agency responsible for recruiting companies, often through the use of incentives. But members balked on also abolishing Visit Florida, the tourism marketing arm of state government. While keeping Visit Florida, lawmakers plan to cut it's budget by two thirds. Appropriations Chair Carlos Trujillo says the agency will get a chance to prove it provides a return on investment.
"I've never been told I saw you on Visit florida.com. They tell me I saw Walt Disney, I saw your beaches , I sawyer weather and its a beautiful place and I want to visit. So for us to think because we run a web site, or just because we run an ad, or a banner, all these people will know know what Florida is and they are coming here is little bit disingenuous" Trujillo told reporters,
Governor Rick Scott tweeted the vote was a jobs killer, He has been traveling the state calling legislators out by name in their home towns, trying to save Enterprise and Visit Florida. The battle threatens to make the 2017 session which starts two weeks from today, difficult.
Posted in State News |

No Comments »