February 22nd, 2017 by Mike Vasilinda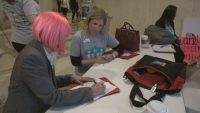 A hundred cancer survivors and advocates were at the state Capitol today, asking lawmakers to fund prevention, research, and anti smoking efforts. The group is seeking 15 million for research, 68 million for tobacco education, and a dollar a pack increase to discourage smoking. Survivor N. Diane Holmes says every dollar spent will save lives.
"I'm really proud to be a breast cancer survivor" says Holmes. "I support a lot of American Cancer Society activities, but it is incredibly important that our legislature understand the importance, in our community, of funding biomedical research, tobacco prevention, funding the Mary Brogan fund, and supporting the cigarette surcharge."
The state's anti tobacco education program has taken Florida from having one of the highest rates of smokers to a state with one of the lowest.
Posted in State News |

No Comments »