March 8th, 2017 by Mike Vasilinda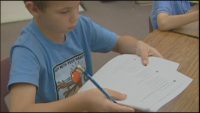 Lawmakers continue to say they are hearing frustrated parents fed up with too much testing. Legislation filed this week by Democrats and Republicans would move the state assessment test to the last 20 days of the school year, and would allow districts to use a nationally recognized test such as the Iowa basic, or the ACT.  Senator David Simmons says not only are the current costs of test too high, but they are taking too much time from learning.
"Twenty days a year out of the school year being spent, wasted, on students being idle, teachers being idle, and facilities being idle as a result of taking time to test because of so much testing" says Simmons.
Simmons called the proposal a "return to sanity", and while not likely to pass in its entirety, testing change has significant support this session, which ends May 5th.
Posted in State News |

No Comments »