March 8th, 2017 by Mike Vasilinda
Reproductive rights and the rights of immigrants are the issues that mobilized more than a hundred women from across the state to head to the State Capitol today, Where they demanded they voices be heard.
Pamela Gomez boarded a bus in Tampa in the pre dawn hours to bring the reality of her challenges as a latino woman  to the state capitol.
"It's important for our human dignity that we are respected as a community, as contributing members of society." saysGomez. "That we are not political scapegoats of policies that tell us that we are less human."
Buses from Miami and Orlando came as well, bringing an estimated 150 people, singing " what side are you on my people".
They came on a day timed to show the state and nation what a day without women would be like, and to argue that women, like Shania Carr are not being treated as equals.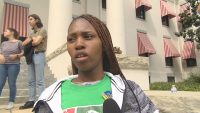 "And we do not get as much respect or power as men do" Carr proclaimed from the Capitol Steps. So we asked and you said your are not respected as a woman?"
"Yes"
"What do you mean?"
"We get judged on our appearances and stuff, and men feel like we should dress a certain way and we should be submissive to them when we shouldn't'" Carr told us.
In addition to immigration and health care. Abortion legislation is a major concern for the women Charo Valero of the Latino Advocacy Network told the crowd abortion rights are under attack and that they must demand access.1"This means open access to safe, legal, affordable abortion" says Valero.
And while the women made plenty of noise here, their voices are not being heard inside the Capitol.
Two abortion bills are moving. So is a bill with harsh penalties for undocumented immigrants. Pamela Gomez told us she knows they have an uphill battle.
"Yes, but we will remind them we are here to stay. That our families are people who put food on their table. says Gomez.
The group claims it helped kill 9 anti immigrant, anti refugee bills last year.
The women boarded buses homeat mid afternoon today, but vowed they would continue to make their voices heard.
Posted in State News |

No Comments »